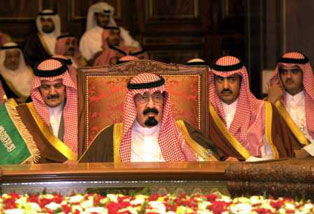 "It's important for Americans to remember that America imports more than 50 percent of its oil -- more than 10 million barrels a day. And the figure is rising. [..]this dependence on foreign oil is a matter of national security. To put it bluntly, sometimes we rely upon energy sources from countries that don't particularly like us." - George W. Bush, February 25, 2002
Mother of All Smokescreens
Worldwide Oil Reserves: How Do You Lose 47 Billion Barrels of Anything?
So how much oil is there in Kuwait? How can the reserve estimates for a country like Kuwait differ by such staggeringly large amounts, namely 47 billion barrels one way or the other? After all, Kuwait is not such a big place. At its most distant points, Kuwait is about 135 miles (217 kilometers) north to south and 115 miles (185 kilometers) east to west. That is, Kuwait is a little smaller than the state of West Virginia. How can you be off by 47 billion barrels? Could you just "lose" 47 billion barrels of anything in West Virginia, let alone in Kuwait? And Kuwait is fairly flat, far flatter than the aforementioned New Jersey. Kuwait has no remarkable surface geology in the nature of mountains and other geologic fold belts. What is going on here?
Do you want to know the truth? Let me paraphrase the famous line that Jack Nicholson's character, a colonel of the U.S. Marines, spoke in the movie A Few Good Men. "You want answers…You can't handle the truth.." OK, I will tell you the truth.

When it comes to estimating oil reserves, you do the best engineering that you can. You look at all of your samples from down in the hole. You gather all the data available. You spend as much money as you can afford to do things right. You crank all the numbers. You fit all the numbers to the very best curves that you can draw. And then you take a guess.